Get to know hair before doing hair removal laser
Hair is one the body parts with complexity like eyebrows, moustache and beard, which have different features. "Hair" will grow on deep epidermis, consisting with hair follicles, roots and hairs. Hair follicles will be on epidermis and dermis, surrounding with sebaceous glands, creating root lining, which will be oblique. Only hair will be seen out of skin.
But nowadays, people give more attention to hair beacuse of lifestyle, profession and personal preference. Moreand more people are looking forwards to a method for hair removal, no matter its plucking, shaving, waxing and laser hair removal.
3 stages of hair cycle
Hair cycle starts from growing to falling, which hair in each area has different life time, but mainly divided into 3 stages as followed:
ANAGEN PHASE is a period that hair grow. There is cell division and get nutrients from blood vessels. Over 85% of body hairs will be in this stage about 3 years, if there is no exterior factors.
CATAGEN PHASE is a period that hair stop to grow. Hair gets out of its follicle, so it won't get any more nutrients, and starts to enter TELOGEN PHASE. This stage last only 2 weeks.
TELOGEN is the last stage that hair falls off. It lasts about 1 -3 monthes, and gets new hair to replace and be back to ANAGEN PHASE again.
Hair cycle in each individual differ in different body areas as well as hormonal influences, hair's thickness and hair's color. If one is looking for a method to remove hairs from parts of body, no matter it's waxing or laser hair removal, hair can be removed only in ANAGEN PHASE and result duration may differ depending from technology used and treated area.
Why hair removal laser at Romrawin Clinic?
Hair removal is something that everyone has to do as daily routine to keep that area clean and smooth. Thats why many people look for method to remove hair while save time, get effective result and dont damage skin.
Romrawin Clinic choose to use hair removing technology like Gentle YAG hair removal laser, that emit energy deep down to hair roots and able to remove hair without damaging surrounding skin. And overmore, Romrawin Clinic offer treatment service along with hair removal laser, called P-White.
Let's get to know what does it help. P-White is an ultrasound treatment, which pushes vitamins into skin. These vitamin is a unique formula of Romrawin Clinic, that create and adjust formula to suit all types of skin. It plays a part in recuperate skin from damage and boost brightening effect. Also, it is 3 times more effective comparing to apply nourishing cream.
Have to say that this is another trick that Romrawin Clinic use.Not only hair removal, but Romrawin Clinic also pay attention in nourishment to give clients the best result.
Overmore, Romrawin Clinic has dermatologist team to give consultation on hair removal laser. Because Romrawin Clinic does not only do hair removal for clients, but also pay attention to the best service and result possible that clients will get, and it is the reason why get hair removal laser at Romrawin Clinic.
Gentle YAG hair removal laser technology
Gentle YAG Laser is long pulse Nd:YAG laser that has frequency of 1064 nm, can be used with every type and color of skin. Gentle YAG has Cryogen Spray system with -27 °C to cover dermis layer while laser hair removal, so it gets gentle protection to prevent irritation and black mark from doing laser. Cryogen Spray duration can be adjusted depending of skin condition of each client.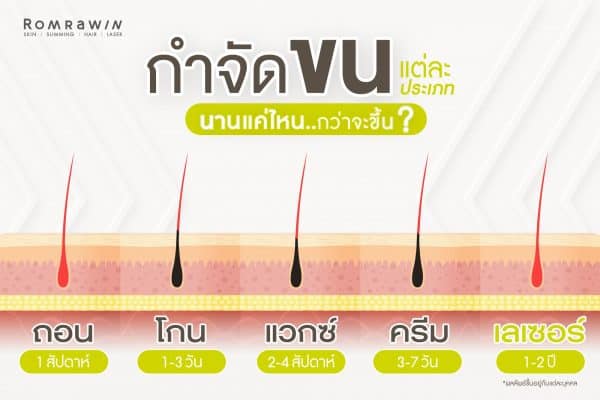 How many methods are there for hair removal?
If we have to talk about hair, we have to think about hair removal, because hair is a trouble for many adolescents. There are many different ways to remove hair, but do you know that each method has its' pros and cons:
Plucking is first method that most people choose to use easily at home. Its quick and cheap, but its not gentle at all. The more you are plucking, the more you risk to get ingrown hairs and chicken skin blisters.
Shaving is another convenient method, which is simple and fast as well, but cons is that after 1-3 days of shaving, hairs will grow back very quickly. Shaving need to be done frequently and have risk to get redness, blisters, skin irritation and itching easily.
Waxing is another method that can be done as well. You can choose from warm and cold wax, which can remove all hair at once but it can easily irritate and get ingrown hairs.
Hair removal cream is a famous product, which consist of various basic chemical. When it get in contact with hair, it will tear hair from its roots while roots remain the same. This method of hair removal is temporary and dangerous to skin as well.
Laser is the most effective method and the most famous nowadays, because it can remove from hair roots and still be gentle to skin. It keeps hair follicles small and new grown hairs will be thinner and be gone.
Cons of wrong hair removal method
Various methods for hair removal, no matter it's plucking, shaving, waxing or applying hair removal cream, it gives different outcomes, and each methods give undesirable side effects as followed:
Ingrown hairs are caused by clogging of hair follicles. Makes the skin around the hair have a thicker skin layer. As a result, the newly grown hairs cannot pierce through the skin. The hair then grows longer and curls under the skin. Push up the skin in that area is a blister. It looks like a small black spot along the pores, making the skin look rough like chicken skin. It is often found in people with dry skin rather than oily skin.
Folliculitis is caused by irritation of the hair follicle as a result of regular plucking or shaving to remove hair.
Black spots on the body, looks like a red to dark brown flat spots. It is caused by inflammation of the skin caused by hair removal, shaving. Although it is not harmful to the body, it creates quite a bit of annoyance for the girls.
Getting scar. Hair removal by shaving, plucking or using depilatory creams frequently may cause inflammation and scarring from ingrown hairs, or scars from allergic rashes of hair removal creams or gels, which, if not well maintained, can affect the exterior surface in the long run. With problems caused by the wrong method of hair removal, may result in other matters; not confident, dressing and so on.
How many type of hair removal laser?
Hair removal laser is another method of hair removal that is gaining a lot of popularity, which is being talked about right now. No matter its laser hair removal mustache, armpits, bikini or even other parts of the body that have hair you can get rid of, because hair removal laser is an effective method and gives good results and best value. By doing just one course, you can deal with hair problems that bother you for a long time, but there are many types of lasers and each one has limitations or suitable for different type of skin. Let's get to know them.
IPL (Intense Pulsed Light) Have to say that IPL is not laser like many people thought. IPL is justlight with wide range of wavelength from 420 nm to 1,200 nm. It is one of the hair removal methods, which is famous amongst the Thais, but IPL is a hair removal machine that produces inconspicuous result, risk of getting burnt and cant remove deep to its root like other hair removal laser.
Suitable for: those who have quite white skin.
Popular treating area: face, legs, back, bikini, armpits and sensible areas.
2. Alexandrite Laser is a laser wave with a wavelength range of 755 nm. It is a laser wave that uses alexandrite crystal as a medium to produce light. making it possible to go deeper and able to capture pigment better than Long-pulsed ruby laser and IPL laser energy waves, resulting in quite good hair removal efficiency
Suitable for: those who has white skin withe yellowish tone, but not suitable for those who has bronde or red hair.
Popular treating area: spacious area like legs
3. Diode laser is a laser energy wave with a wide range of wavelengths. At present, the commonly used wavelength ranges from 800-810, 940, 1064-1350 nm. Laser Diode can absorb quite a lot of pigment. and can go deep into the deep layers of the skin. As a result, it has a high hair removal ability compared to using other types of lasers.
Suitable for: those who has white skin with medium tone, but not suitablle for those who has tan skin. Those who has thick and dark hair will see result better than those who has light hair.
Popular treating area: around arms, legs and spacious areas. It is not suitable for face or limited area.
4. Gentle YAG Laser is a type of long pulse Nd:YAG laser that is very popular in Thailand and is also the newest laser, which has a wavelength of 1,064 nm, emits energy in a frequency range that can destroy the hair follicle without damaging the nearby skin while firing the laser. And while doing it, a cold spray is released to cool down the upper skin layer and protect the skin where the laser is being treated safely.
Suitable for: every type of skin.
Popular treating area: can remove hairs from every parts of body like armpits, moustache, bikini, arms and legs, etc.
Where can haor removal laser be done?
Hair removal laser that Romrawin Clinic chooses to use can remove hair from all areas with gentle yag technology that sends power down to the hair roots. It is also a laser that is gentle on the skin, which responds to today's hair removal needs a lot. Hair removal in each area depends on personal preference as well.
How many time should hair removal laser be done?
Usually hair removal laser has to be repeated, because the hair of each part of the body grows in a cycle and has different thickness and color tone. When we do hair removal laser, it sends energy down to the hair follicle, and these pigments will absorb heat energy until the hair follicles shrink and work less.
In each laser treatment, approximately 20-30% of hair during adulthood absorbs energy and shrinks. Therefore, it has to be repeated in the same area about 5-8 times depending on the area of treatment, the color of the hair, the nature of the hair. client's ethnicity. In addition, doing each time should be about 3-4 weeks apart for effective treatment results.
Hair removal laser will begin to see clear results after about 3-4 treatments. After each treatment, the hair will begin to come off. About 2 weeks after the end of the 5th treatment, the hair in the treated area will be slightly thin. After that, there may be a time to do laser distance. After completing all 8 sessions, some patients may not grow hair in that area for up to 2 years, but if hair does grow, it will be just soft hair. which can be re-treated on a case-by-case basis. However, in each laser should be under the supervision of a doctor or specialist to adjust the energy to suit the skin of each individual for maximum safety and efficiency in treatment.
Preparation before doing laser hair removal.
Laser hair removal is the best way, but before doing laser hair removal, some preparations should be made for good results after laser hair removal, including:
Refrain from plucking, shaving or waxing for 3-4 weeks.
Refrain from scrubbing the skin in the area that needs laser hair removal, because scrubbing the skin can cause the skin to be scratched and wounded.
Avoid sunlight for at least 1 week prior to laser hair removal. The skin on the area that needs laser hair removal should not be exposed to sunlight.
Avoid using products that are irritating, which can make the skin in the area to be treated weak and unsuitable for laser hair removal.

Care after laser hair removal
In laser hair removal, for the most effective results, post-laser care is also an important matter that the patient should pay attention to, including:
Avoid sunlight for at least 1 week after laser hair removal. The laser hair removal area should not be exposed to sunlight and sunscreen should be applied to the laser area to protect the skin.
Refrain from activities that use heat such as sauna, hot yoga and steam for 2-3 days.
Refrain from using products that cause irritation after the laser hair removal treatment during the first 2 days to prevent irritation on the laser treated skin.
Refrain from scrubbing the skin around the laser hair removal treatment area Because scrubbing the skin can cause the skin to be scratched and wounded.
080-1539000
 080-1549000

 Line : @Romrawinclinic

Romrawin Clinic พร้อมให้บริการเสริมความงาม
โดยแพทย์ผู้เชี่ยวชาญชั้นนำในประเทศ
คุณหมอฐา-พญ.ฐานิสร ธรรมลิขิตกุล
คุณหมอฐา-พญ.ฐานิสร ธรรมลิขิตกุล ผู้อำนวยการแห่งรมย์รวินท์คลินิก จบการศึกษาจากคณะแพทยศาสตร์ศิริราชพยาบาล มหาวิทยาลัยมหิดล แพทย์หญิงแถวหน้าของเมืองไทยผู้เชี่ยวชาญด้านดูแลผิวพรรณ ที่มุ่งเน้นเสริมความมั่นใจให้กับผู้ที่เข้ารับการบริการ ผ่านแนวคิด "For The Better You สวยในแบบที่เป็นคุณ"  โดยคำนึงถึงปัญหาของคนไข้ และวิธีการรักษาที่ได้ประสิทธิภาพที่ดีที่สุด คำนึงถึงความปลอดภัยและผลลัพธ์ระยะยาว ปัจจุบันรมย์รวินท์คลินิกมีสาขาถึง 28 สาขา และมีทีมแพทย์ผู้เชี่ยวชาญทางด้านโรคผิวหนังชั้นนำในประเทศไทย
ปัจจุบันรมย์รวินท์คลินิกมีสาขาถึง 28 สาขา และมีทีมแพทย์ผู้เชี่ยวชาญทางด้านโรคผิวหนังชั้นนำในประเทศไทย ที่พร้อมเรียนรู้เทรนความงามใหม่ๆ เพื่อให้สอดคล้องกับความต้องการของลูกค้าในปัจจุบันอยู่เสมอ
รางวัลการันตีรมย์รวินท์คลินิก
Honorary Awards ในงาน HELLO! Beauty Awards 2022 ตอกย้ำความเป็นผู้นำด้านความงามและสถานการให้บริการด้านความงามผิวพรรณ รวมถึงการดูแลรูปร่างและสุขภาพด้วยเทคโนโลยีที่มีมาตรฐาน

The Most Trusted Botulinum Toxin Treatment Clinic ผู้นำการปรับรูปหน้า ด้วย Botulinum Toxin ตอกย้ำความเป็นในงาน Hello! Beauty Awards 2022

Top Allergan Aesthetics Valued Customer 2020 Body Contouring

Excellent Allergan Aesthetics Valued Customer 2020 

The Thailand Top Achiever for Ultheraphy TDs. : รางวัลยอดใช้ Ultheraphy TDs. สูงสุดอันดับต้นๆ ของประเทศไทย

The Platinum Award for Merz German Toxin : รางวัลยอดใช้ Xeomin สูงสุดในไทย ระดับแพตทินั่ม

The Platinum Award for Merz Swiss Filler : รางวัลยอดฉีด Swiss Filler สูงสุดในไทย ระดับแพตทินั่ม

The Thailand To Achieve for Ultherapy, German Toxin, Swiss Filler

The Thailand Fastest Growth for Merz 2020

ICONIC ULTHERAPY TREATMENT 2018 จากนิตยสารแพรว