Hand weighting technique.
From experience using ULTHERA innovation for a long time, placing emitting head with a proper weight and as close to skin as possible to reduce pain even more while treating.
Shooting technique and direction.
Dermattologist will shoot energy perpendicularly to clients'skin to emit enerrgy to desired location. Other than reducing pain, it also reduce risk of getting burnt skin.
Moving transducer technique.
It is to move transducer or emitting head between each shot for 5 mm. so that energy won't be too accumulated in the same area. It is to prevent building up heat. It can reduce pain and burn even more.
Changing shooting location tecnique.
Other than moving transducer, it can also change its shooting location, when it emits 15 Lines of energy to prevent too much accumulated energy in the same area.
---
Hyper Personalift X3
This Hyper Personallift X3 techinique is a technique to reduce pain and meet every needs of skin problems. It fixes every aging problems as followed:
Frame Selection firm up face frame.
Light & Shadow Me increase fcial dimension in every degree.
Conceal Selection
It smoothen all skin problems with principle of Hyper Personallift X3 technique, which focus on SMAS and Collagen Rich. It will emit energy as Double Depth with 3 versions of transducer to SMAS to make tissues shrink and lift up. It will also emit energy to Collagen Rich, which has the highest intensity of collagen and suitable to stimulate collagen production the most, so skin will look plumped and lifted even more.
---
Area that has high collagen intensity?
Dermis
This layer has high intensity of Collagen, Elastin and Fibroblast, which make it important layer and suitable for doing lifting and restore skin.
SMAS (Superficial Muscular Aponeurotic System)
Tissue layer that cover around muscles, cover all over the face from forehead, temples, under eyes, chin and neck. This area has horizontal collagen, covering muscles, and suitable to stimulate for lifting.
---
What is advantage of ULTHERA Hyper Personallift X3?
Discover every skin problem.
With MFU-V (Micro-Focused Ultrasound with Visualization) technology of ULTHERA innovation, you can see the screen on Real Time during the treatment. You can see skin layer during the treatment, so energy can be focused to SMAS and Collagen Rich precisely.
Plan treatment specifically.
Face of each person has different skin structure, so it need to be planned by dermatologist to analyse and design for precie treatment.
Treat directly on every problems
Lastly, treatment will be effective and safe or not, expertise of dermatologist is important. Also, adapting experience in using each version of transducer properly for the highest efficiency, safety and last-long result, is needed.
---
S / M / L or XL Can deal with any size of problem.
Ulthera Hyper Personallift X3 program can meet all range of aging problem because in each range of age, there is different skin problems. Treating with Ulthera program should be best to fix problem to a proper level. More problem, more shot. No matter you are 30+ / 40+ / 50+ or 60+ years, you can have nice and firm face with Ulthera Hyper Personallift X3 program, which can meet all different aging problems.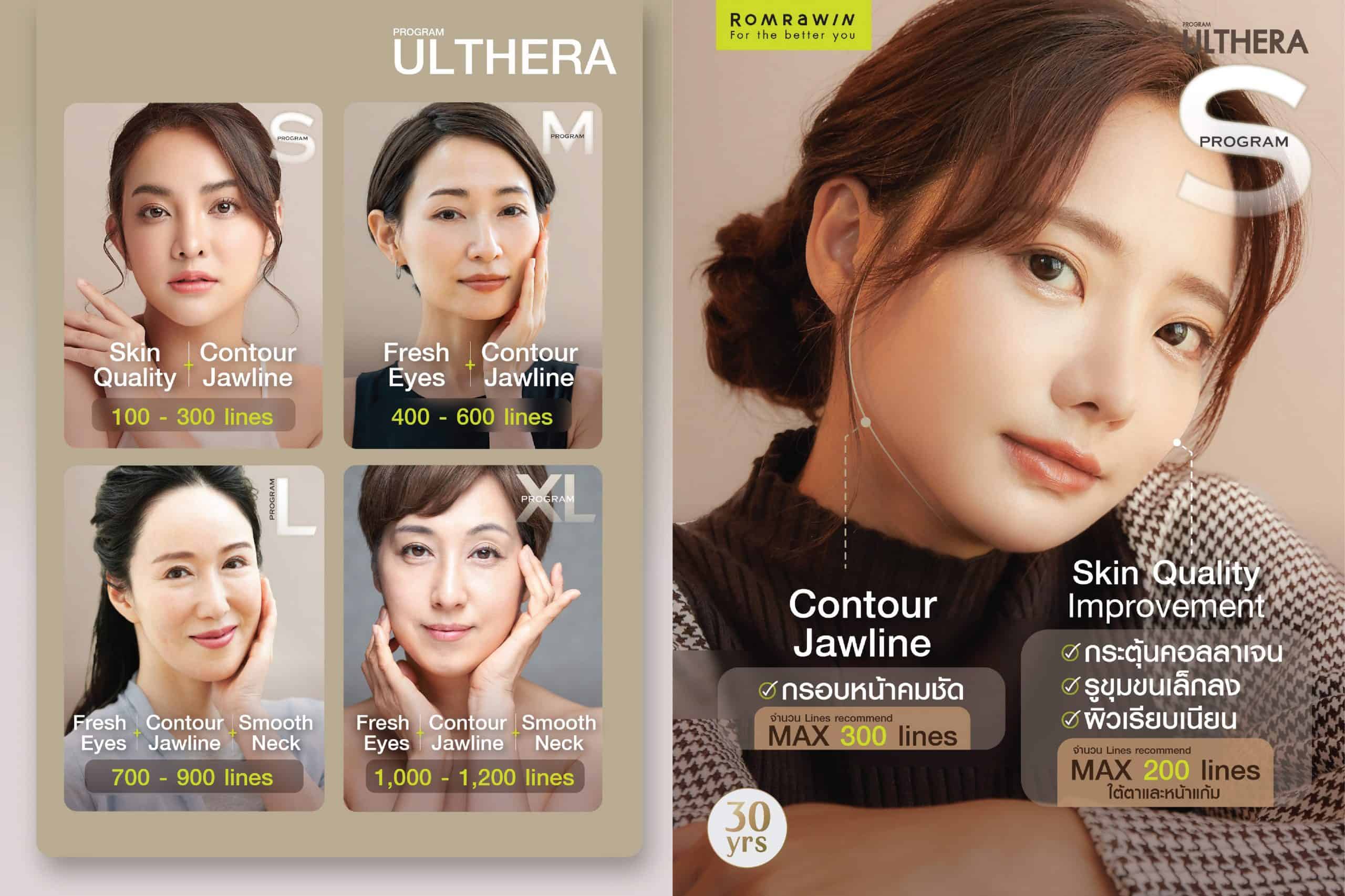 080-1539000
 080-1549000

 Line : @Romrawinclinic

Romrawin Clinic พร้อมให้บริการเสริมความงาม
โดยแพทย์ผู้เชี่ยวชาญชั้นนำในประเทศ
คุณหมอฐา-พญ.ฐานิสร ธรรมลิขิตกุล
คุณหมอฐา-พญ.ฐานิสร ธรรมลิขิตกุล ผู้อำนวยการแห่งรมย์รวินท์คลินิก จบการศึกษาจากคณะแพทยศาสตร์ศิริราชพยาบาล มหาวิทยาลัยมหิดล แพทย์หญิงแถวหน้าของเมืองไทยผู้เชี่ยวชาญด้านดูแลผิวพรรณ ที่มุ่งเน้นเสริมความมั่นใจให้กับผู้ที่เข้ารับการบริการ ผ่านแนวคิด "For The Better You สวยในแบบที่เป็นคุณ"  โดยคำนึงถึงปัญหาของคนไข้ และวิธีการรักษาที่ได้ประสิทธิภาพที่ดีที่สุด คำนึงถึงความปลอดภัยและผลลัพธ์ระยะยาว ปัจจุบันรมย์รวินท์คลินิกมีสาขาถึง 28 สาขา และมีทีมแพทย์ผู้เชี่ยวชาญทางด้านโรคผิวหนังชั้นนำในประเทศไทย
ปัจจุบันรมย์รวินท์คลินิกมีสาขาถึง 28 สาขา และมีทีมแพทย์ผู้เชี่ยวชาญทางด้านโรคผิวหนังชั้นนำในประเทศไทย ที่พร้อมเรียนรู้เทรนความงามใหม่ๆ เพื่อให้สอดคล้องกับความต้องการของลูกค้าในปัจจุบันอยู่เสมอ
รางวัลการันตีรมย์รวินท์คลินิก
Honorary Awards ในงาน HELLO! Beauty Awards 2022 ตอกย้ำความเป็นผู้นำด้านความงามและสถานการให้บริการด้านความงามผิวพรรณ รวมถึงการดูแลรูปร่างและสุขภาพด้วยเทคโนโลยีที่มีมาตรฐาน

The Most Trusted Botulinum Toxin Treatment Clinic ผู้นำการปรับรูปหน้า ด้วย Botulinum Toxin ตอกย้ำความเป็นในงาน Hello! Beauty Awards 2022

Top Allergan Aesthetics Valued Customer 2020 Body Contouring

Excellent Allergan Aesthetics Valued Customer 2020 

The Thailand Top Achiever for Ultheraphy TDs. : รางวัลยอดใช้ Ultheraphy TDs. สูงสุดอันดับต้นๆ ของประเทศไทย

The Platinum Award for Merz German Toxin : รางวัลยอดใช้ Xeomin สูงสุดในไทย ระดับแพตทินั่ม

The Platinum Award for Merz Swiss Filler : รางวัลยอดฉีด Swiss Filler สูงสุดในไทย ระดับแพตทินั่ม

The Thailand To Achieve for Ultherapy, German Toxin, Swiss Filler

The Thailand Fastest Growth for Merz 2020

ICONIC ULTHERAPY TREATMENT 2018 จากนิตยสารแพรว