Cumulative stress problem causing us to express our facial expressions unconsciously. Most people when in doubt or stress, often expressing emotions through frowning. When the muscles work frequently, it is one of the causes of wrinkles. In addition, with increasing age, collagen under the skin layer is destroyed. It is the causes for wrinkles to become deeper and more noticeable. Frown lines problem or deep marks that occur between the eyebrows is another troubling problem on the face because of these deep wrinkles can be clearly observed. The most popular wrinkle reduction method is the glabella Botox injection because it solves the problem exactly to the point.
In addition to increasing age that makes our skin condition change, dangers of UV rays in sunlight, stress and relaxation are also major factors that cause wrinkles. The collagen under the skin, which is a type of protein, will be destroyed, including the structure of the skin will lose its elasticity, causing the skin to have wrinkles, deep grooves and the skin loses firmness. Areas where wrinkles are most prone is the skin around the eyes, eyes' corner, under eyes, frown area or glabella, forehead and cheek groove, respectively. Most people, therefore, pay special attention to eyes care because it gets wrinkles easily. One of the most popular wrinkle solutions in the beauty industry is Botox injection to reduce wrinkles.
What is glabella Botox injection?
Botox injection is the use of substances that act by inhibiting the function of neurotransmitters by causing the muscles to temporarily stop working. When neurotransmitters are unable to be sent to the muscles to cause movement or work, causing folds or wrinkles to reduce. Botox injection will begin to see results after about 1 week of injection and will see the full effect in about 2 weeks. Results after Botox injection to last about 4-6 months, then botulinum toxins began to decrease, and the muscles in that area will be able to move again.
Who is glabella Botox injection suitable for?
Suitable for those who have problems with wrinkles between the eyebrows, including the forehead.
Suitable for those who have wrinkles between the eyebrows when frowning. or show emotion.
Suitable for those who want to fix problems between the eyebrows, but don't want to get surgery.
Benefits of glabella Botox injection
Reduce eye wrinkles between the eyebrows including wrinkles around the forehead
Reduce facial expressions and movement of muscles on the face, which will cause wrinkles in the future
Reduce follicle pores, adjust smooth skin, reduce sweat on the face and reduce shininess.
Heals quickly, doesn't take long no recovery and don't need surgery.
Suggestion before glabella Botox injection
Refrain from taking drugs or supplements that affect blood clotting. If you have any medications that you take regularly, you should consult your doctor first every time.
Before receiving the service, you should study or consult a doctor to assess the problem first to be prepared.
Get enough rest about 6-8 hours.
Refrain from drinking alcohol and smoking for at least 2 weeks or at least 1-2 days after the injection between the eyebrows.
Refrain from activities that affect blood pumping, such as strenuous exercise and sauna 1-2 days after receiving the service.
Suggestion after glabella Botox injection
In the first night after injection, you should lie down with your pillow propped up, do not lie down to reduce the movement of the drug to other areas.
Refrain from drinking alcohol and smoking 2 weeks after the injection.
Do not squeeze, knead, or act vigorously after the injection between the eyebrows within 6-8 hours.
After injection, the muscles should be exercised for at least 1 hour. This can be done by smiling, squinting, raising or frowning eyebrow.
If there is pain, painkillers can be taken to relieve symptoms. If it doesn't go away, see a doctor as soon as possible.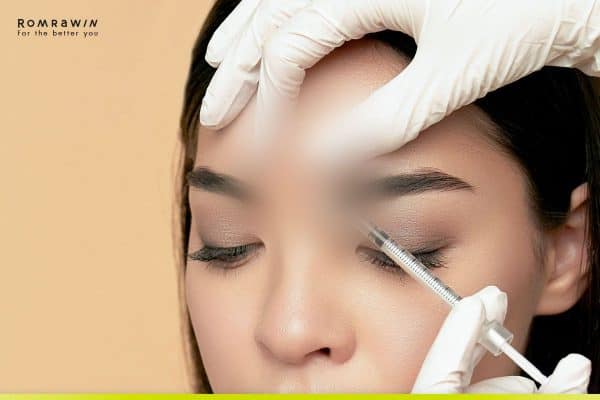 080-1539000
 080-1549000

 Line : @Romrawinclinic

Romrawin Clinic พร้อมให้บริการเสริมความงาม
โดยแพทย์ผู้เชี่ยวชาญชั้นนำในประเทศ
คุณหมอฐา-พญ.ฐานิสร ธรรมลิขิตกุล
คุณหมอฐา-พญ.ฐานิสร ธรรมลิขิตกุล ผู้อำนวยการแห่งรมย์รวินท์คลินิก จบการศึกษาจากคณะแพทยศาสตร์ศิริราชพยาบาล มหาวิทยาลัยมหิดล แพทย์หญิงแถวหน้าของเมืองไทยผู้เชี่ยวชาญด้านดูแลผิวพรรณ ที่มุ่งเน้นเสริมความมั่นใจให้กับผู้ที่เข้ารับการบริการ ผ่านแนวคิด "For The Better You สวยในแบบที่เป็นคุณ"  โดยคำนึงถึงปัญหาของคนไข้ และวิธีการรักษาที่ได้ประสิทธิภาพที่ดีที่สุด คำนึงถึงความปลอดภัยและผลลัพธ์ระยะยาว ปัจจุบันรมย์รวินท์คลินิกมีสาขาถึง 28 สาขา และมีทีมแพทย์ผู้เชี่ยวชาญทางด้านโรคผิวหนังชั้นนำในประเทศไทย
ปัจจุบันรมย์รวินท์คลินิกมีสาขาถึง 28 สาขา และมีทีมแพทย์ผู้เชี่ยวชาญทางด้านโรคผิวหนังชั้นนำในประเทศไทย ที่พร้อมเรียนรู้เทรนความงามใหม่ๆ เพื่อให้สอดคล้องกับความต้องการของลูกค้าในปัจจุบันอยู่เสมอ
รางวัลการันตีรมย์รวินท์คลินิก
Honorary Awards ในงาน HELLO! Beauty Awards 2022 ตอกย้ำความเป็นผู้นำด้านความงามและสถานการให้บริการด้านความงามผิวพรรณ รวมถึงการดูแลรูปร่างและสุขภาพด้วยเทคโนโลยีที่มีมาตรฐาน

The Most Trusted Botulinum Toxin Treatment Clinic ผู้นำการปรับรูปหน้า ด้วย Botulinum Toxin ตอกย้ำความเป็นในงาน Hello! Beauty Awards 2022

Top Allergan Aesthetics Valued Customer 2020 Body Contouring

Excellent Allergan Aesthetics Valued Customer 2020 

The Thailand Top Achiever for Ultheraphy TDs. : รางวัลยอดใช้ Ultheraphy TDs. สูงสุดอันดับต้นๆ ของประเทศไทย

The Platinum Award for Merz German Toxin : รางวัลยอดใช้ Xeomin สูงสุดในไทย ระดับแพตทินั่ม

The Platinum Award for Merz Swiss Filler : รางวัลยอดฉีด Swiss Filler สูงสุดในไทย ระดับแพตทินั่ม

The Thailand To Achieve for Ultherapy, German Toxin, Swiss Filler

The Thailand Fastest Growth for Merz 2020

ICONIC ULTHERAPY TREATMENT 2018 จากนิตยสารแพรว